Melissa Greene, Board Secretary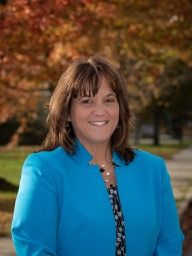 Melissa Greene began her career in banking in 1987, after spending a few years in college not knowing what she wanted to be when she grew up. If you ask people that know her to describe her in a couple words, they would say talkative and optimistic. Over the last thirty years the talkative part of Melissa helped her go from teller to Mortgage Officer and now Training Officer at Union Bank. She is passionate about helping people reach their goals whether it be financial or educational. She joined the United Way of Lamoille County board in July of 2017 as their goals of helping people aligned with her own. 
Every year, she and her husband plan vacations on a warm island, spending time sitting in the sand people watching. Her retirement dream is to travel in a camper with her husband and see as much of the United States as she can. 
Melissa lives in Wolcott with her husband. She has two grown, married children. She is looking forward to having the name "Grammie" for the first time in February 2019.