Jon Gailmor, Vice-Chair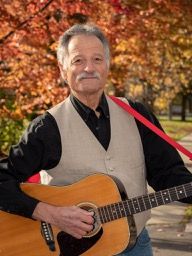 Jon Gailmor was born in New York City and failed to grow up in Philadelphia, Connecticut, Israel, Europe, Massachusettes, Rhode Island and, since 1977, Vermont.  He has and continues to sing for audiences prenatal through prehistoric in every setting under the sun: from the grapevines of southern France to a tennis stadium in Lima, Peru; a Men's Room in Philadelphia with his college barbershop quartet; countless bars and folk clubs around the country; pre-schools through high schools; universities and everywhere in between.
Jon presents songwriting residencies and workshops in schools, for companies, and for any group or person who'd like to compose a song.  He also creates and delivers singing telegrams for United Way of Lamoille County.  He performed as Vermont's representative at the 25th Anniversary of the Kennedy Center in Washington and in 1996 carried the Olympic Torch through Brattleboro, on its way to Atlanta.  Jon has toured with the Vermont Symphony Orchestra, has released seven albums, and lives with his family and lots of other creatures in Elmore.
Jon Gailmor is passionately committed to the power of music, emotions, and laughter. And jeezum, do we need all of them now! He has always admired the great, life-changing work of United Way, and when asked to join the Board many years ago, he did so enthusiastically and without hesitation.