Savannah Riddle, New Foundations Program Manager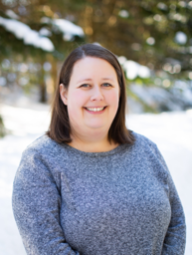 Savannah grew up in Idaho and has lived in Maryland, Tennessee, Washington, and Massachusetts until finally realizing Vermont was home in 2014. She received a B.A. in Sociology from the University of Maryland Baltimore County and a Master of Public Health degree from Boston University. 
Savannah has held various human service roles in the areas of domestic violence, restorative justice, and creating healthy communities through sidewalks, bike lanes, parks, access to food, and community gardens. All of her work has been centered on supporting people and communities in their journeys. 
As the New Foundations Program Manager, Savannah supports single parents during their two year stay with us while they work towards independent living and self-sufficiency. 
Outside of work she enjoys spending time with her dogs, reading memoirs, gardening, and collecting lots of house plants.
Email: savannah@uwlamoille.org