Jim Curran, Executive Director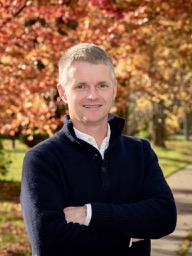 Jim grew up in the town of Springfield, Vermont. He received a BA in Psychology from Johnson State College.  After school, he spent 12 years working in multiple managerial positions at Smugglers' Notch Resort, which he credits with his "Jack of all Trades" skill set.  He went on to become Operations Director at ReSOURCE: A Non-Profit Community Enterprise, starting a new reuse and training facility in Lamoille County. He also developed many improvements and efficiencies to their reuse operations in Chittenden and Caledonia Counties.  The 5 years spent with ReSOURCE is where he got the bug for non-profit work.  He joined the United Way of Lamoille County because of the programs they deliver to Lamoille County, such as New Foundations and the Firewood Project.  He enjoys talking to people, and meeting them where they are.
In his free time, you may find him at the mountain teaching his three kids how to ski, enjoying a burger with his family, or working on his house. Jim currently serves on the board of directors of the Lamoille County Chamber of Commerce, and as Board President of the United Ways of Vermont.
Email: jim@uwlamoille.org