Ellen Gibs, Board Member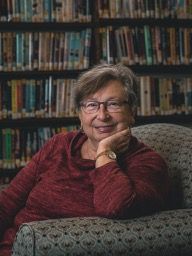 Ellen grew up in Lowell, Massachusetts and has lived in Vermont for the last four and a half years. The bucolic beauty and culture of adventure brought Ellen and her husband here to enjoy hiking, skiing, and biking in their free time. Ellen has a Master's in Social Work from Boston University. She joined United Way of Lamoille County's Board of Directors shortly after moving here because she wanted to "give back to the community we live in" and feels that UWLC's mission aligns with her personal beliefs. 
As a Geriatric Social Worker with a private practice, Ellen feels privileged that people share their lives with her. She feels it is an honor to be trusted to help them. She identifies herself as a chocoholic and loves to travel. Her top three favorite places she has been are New Zealand, Peru, and Israel. She says "They are all very different but equally beautiful." 
Ellen has a beautiful view of Mount Elmore from her home in Hyde Park, where she lives with her drummer husband of 48 years, Larry. She has two grown children and four grandchildren.