Anne Renaud-Conway, Board Treasurer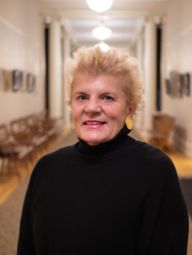 Anne is a native Vermonter, born and raised in the Lamoille Valley area. Although she loved the friendships and adventures of growing up in a small town, her curiosity about 'big city' living lured her to Boston in the 1980's. There, she obtained rewarding employment as a project manager at Brown Brothers Harriman, a private international investment bank. Her position afforded Anne with opportunities to travel to many European countries. In 2009, she accepted a voluntary early retirement package from her company and returned to her roots, settling in Cady's Falls.
After discovering that all the 'free time' was not very fulfilling, Anne accepted a part-time position as the Lamoille County Clerk and sought opportunities to do volunteer work. She joined the United Way of Lamoille County in June 2014. Anne is passionate about the UW mission to act as an advocate for Lamoille County families. She enjoys helping others and being involved in her community.  Anne believes that volunteering gives her a chance to make a difference in the lives of others, as well as make a difference in her own life.
Anne is the proud mother of two sons and the grandmother of two granddaughters, who affectionately call her Mammie. She is passionate about her faith, family, elephants and volunteer experiences. Anne's life philosophies are: "You can't always get what you want…but if you try sometimes, you just might find you get what you need" (Rolling Stones) and "And in the end, the love you take is equal to the love you make" (Beatles).