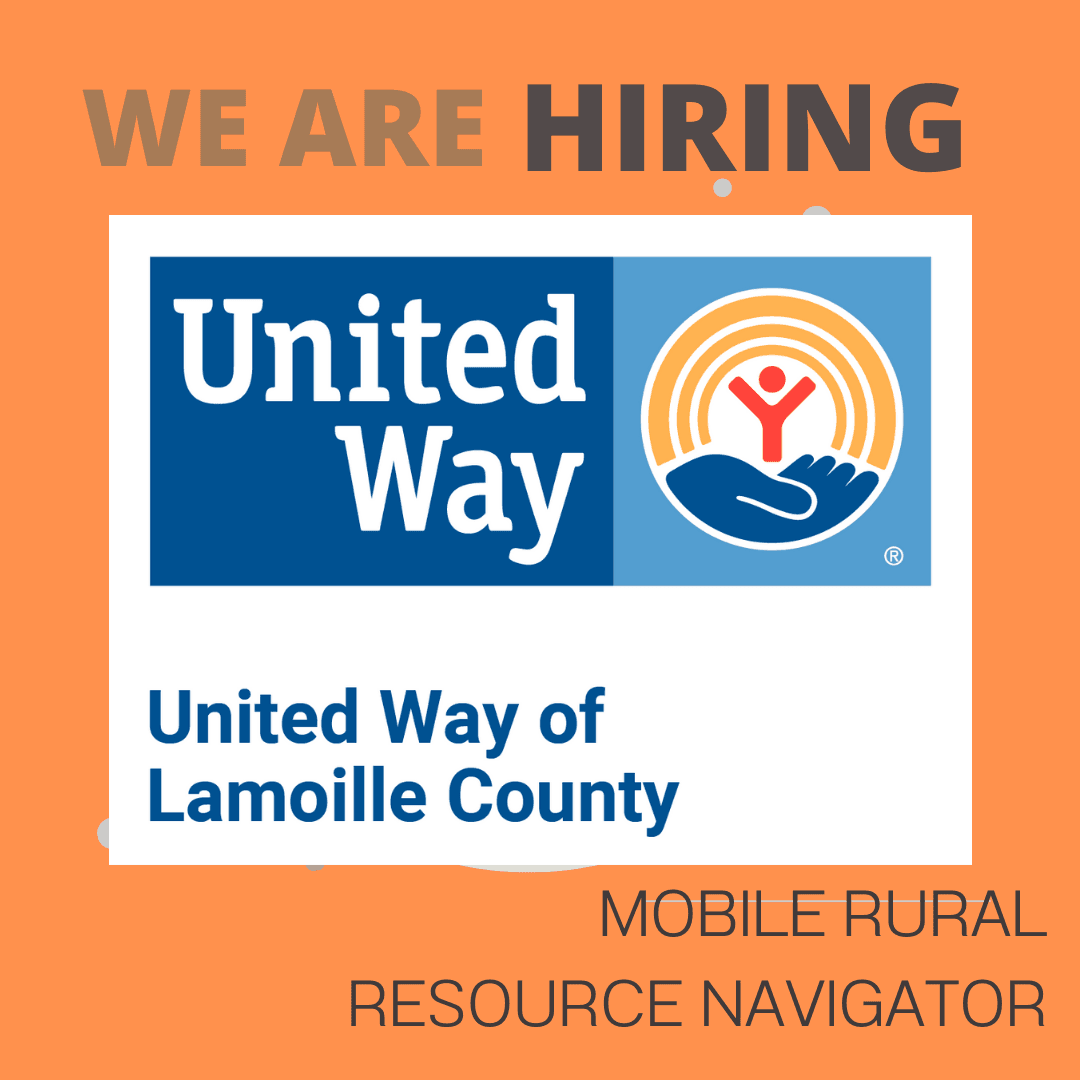 Job Title: Mobile Rural Resource Navigator             
Join an innovative and collaborative team! United Way of Lamoille County is hiring a Mobile Rural Resource Navigator to join the growing team. The Mobile Rural Resource Navigator role was developed in response to a growing need in Lamoille County for community members to gain access to resources in order to be able to live healthy, engaged, fulfilling lives.  Navigating the network of available agencies can be complicated and overwhelming. 
Reports to: Co-Executive Director
To apply, please email resume and cover letter by 9/02/2022 to: clarissa@uwlamoille.org
Position Summary: 
The primary role of the Mobile Rural Resource Navigator ("Mobile Navigator") is to assist Lamoille County residents access social services and other community resources. The Mobile Navigator meets with individuals to understand their unique situations and coach them to address issues that are impacting their quality of life. Developing trusting relationships with residents, area agencies, businesses, and other community partners is the heart of the Mobile Navigator's work.
Essential Functions:
The primary responsibilities of the Mobile Navigator position include, but are not limited to:
Facilitate referrals for resource seekers to community resources.
Create and develop outreach strategies 
Provide listening support, problem-solving and financial coaching.
Promote awareness of this program through community events and area activities
MINIMUM QUALIFICATIONS: 
Bachelor's College and/or demonstrated experience navigating community resources and working across sectors by managing multiple relationships. Pay commensurate with experience. 
Innovative, creative approach with the ability to build relationships, honor diversity, and adapt to different work environments.
Demonstrated neutrality, objectivity, professionalism, discretion, confidentiality, problem-solving, confidentiality, and calmness under pressure.
Strong communication skills, including excellent listening skills demonstrated through the use of patience and respect for others. This includes the ability to communicate in an approachable and understandable way for diverse audiences and populations. Primary languages other than English are welcomed.
Organizational skills are necessary to manage multiple commitments to area meeting sites, complex resource needs, program responsibilities, development work, and data collection
Proficient in Microsoft Office applications, including but not limited to Word, Excel, Outlook, Google, and customer/client databases desired.  Comfort with communicating through various channels, including video, text, and chat.
COMPETENCIES:
Knowledge of Lamoille County and its resources, as well as state systems of care.
High emotional intelligence.
Experience navigating complex systems of support.
Ability to work independently with minimum supervision and as part of a high-performing team.
Organized, able to prioritize, strategically plan, and meet deadlines.
Strong interpersonal, relationship building, and conflict management skills. Possess a sincere desire to work directly with diverse populations.
Understanding of underserved communities.
OTHER REQUIREMENTS:
Valid driver's license and reliable vehicle (with snow tires in winter). Compensation includes mileage reimbursement.
Work  remotely, at community meeting places, or at the United Way of Lamoille County office.
Work non-standard work schedule that can include early mornings and/or late evenings.
Work towards receiving  a Certified Community Resource Specialist (CRS) credential through the Alliance of Information & Referral Systems (AIRS) and work toward training as a Financial Coach (training provided).
State and national background check results are without issue.
ADDITIONAL DETAILS:
Agencies and organizations around Lamoille County will provide training and development opportunities. The position is a one-year grant-funded pilot program which is accompanied by a part-time administrative position to ensure the efficacy and efficiency of this effort. Future funding for the position will be pursued.
The United Way of Lamoille County celebrates diversity and is committed to creating an inclusive environment for all employees.