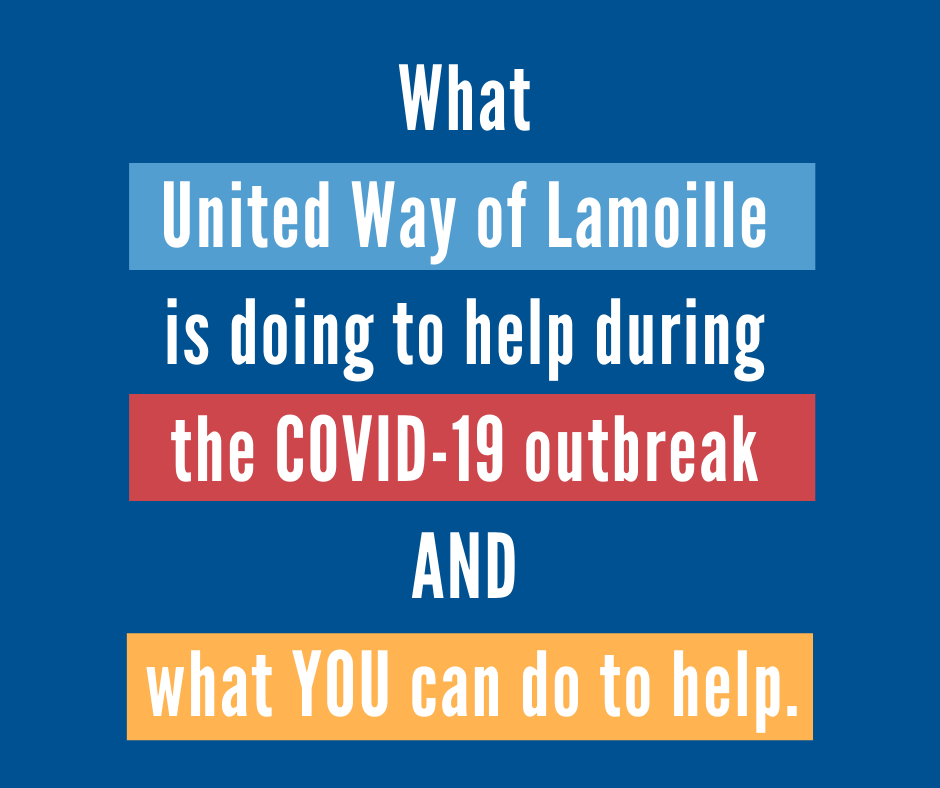 1) COVID-19 Response Fund
The United Way Lamoille County has established a COVID-19 Response Fund to help support those in Lamoille County most affected by the impacts of this disease. As social distancing and self-quarantining become our new normal, we're facing new economic challenges. Many businesses are temporarily closing, and many workers are losing tips, wages or their jobs because of canceled events, business, school closures, and quarantines.
We are asking for donations to assist our neighbors during this difficult time.
Every donation will stay in Lamoille County. Every donation also helps bring funding from national sources to Lamoille County.
Once we secure enough funds, we will be able to effectively start a response. On April 1st, 2020, we will announce how to access these funds. We anticipate distribution will be a combination of individual and micro-grants to organizations.
You can make a secure donation here, donate by calling our office at (802) 888-3252 or send a check to our office at:
United Way of Lamoille County
20 Morrisville Plaza, Suite B
Morrisville, VT 05661
Please write Response Fund in the memo section of your check.
2) Volunteers
The United Way has reached out to our partner organizations to identify households with seniors and individuals who have compromised immune systems in our service area.  We are working with the Lamoille County Food Share and Meals on Wheels to develop a volunteer service that could safely get items needed to those who cannot leave their house.  We will be looking for volunteers willing to do a curbside pick-up/drop-off service with the Lamoille Food Share. 
If you are interested in volunteering for this or other needs that may arise, we encourage you to reach out by the phone (802-888-3252) or email and let us know.
Additionally, a page on our website will be available soon.
3) Reach out
Our physical office may be closed, but please do not hesitate to reach out by phone or email.  We are hard at work during this difficult time and will return calls as soon we can.
Thank you,

Jim Curran
Executive Director
United Way of Lamoille County
jim@uwlamoille.org
802.888.3252